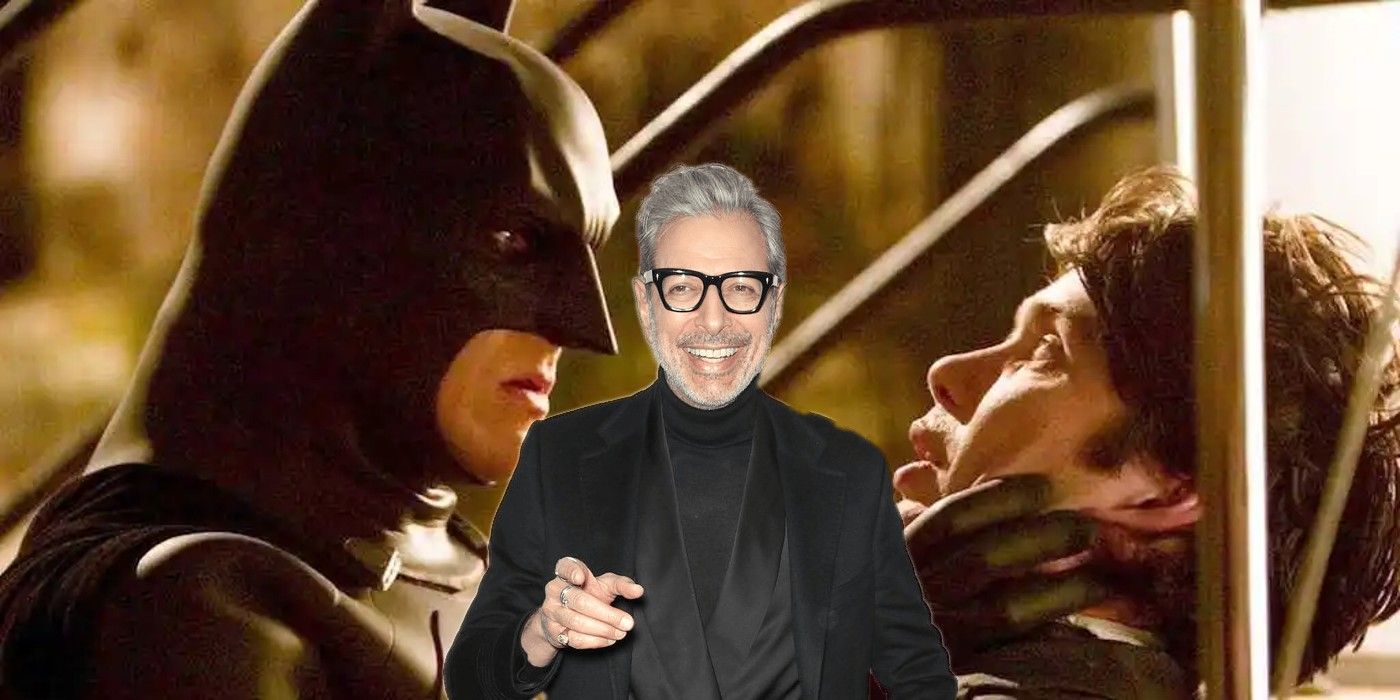 Artist Joe Quinones has revealed concept drawings for his work on Batman '89: Echoes, sequel to the 2021 miniseries Batman '89, set in the continuity established by Tim Burton's Batman films – debuting not only a new Batsuit, which will feature in the series, but also the villain Scarecrow, who fans have decided looks exactly like Jeff Goldblum.
Batman '89: Echoes #1 is set to come out on November 28, 2023, and will feature a Madonna-esque Harley Quinn, in addition to what may well be a Goldblum-inspired Scarecrow. Like its predecessor, Batman '89: Echoes draws on concepts from the unrealized third Burton Batman film, along with new material from Quinones and writer Sam Hamm, to craft a story continuing the Michael Keaton incarnation of the Caped Crusader.
Unmasked Scarecrow Looks Familiar
In anticipation of Echoes, as a special thanks for the immense amount of support the book has received already, Joe Quinones posted behind-the-scenes sketches, previewing what Bruce's Batsuit will look like in the sequel, as well as a full-body view of Scarecrow. Sketches of Scarecrow under the mask caught readers' attention, with the replies to Quinones' initial tweet filling with people who seem to think the villain resembles Jeff Goldblum. Although the artist did not confirm or deny if Goldblum inspired the character's look, many of the new characters in Batman '89 have used popular actors from the 1990s as visual models.
Everyone Thinks Jeff Goldblum is the Scarecrow
Batman '89 notably introduced a version of Robin based on the appearance of Marlon Wayans, who was at one point going to play the character in Tim Burton's 1992 sequel Batman Returns. Similarly, Madonna was originally tapped to play Harley Quinn in what would have been Joel Schumacher's Batman: Triumphant, the plot of which also featured the Scarecrow. While Nicolas Cage was reportedly set to play the demented Dr. Crane in Triumphant, rather the Jeff Goldlbum, basing the character on Goldblum would be a great bit of counterfactual fan-casting. Imagine, for example, a world where Nic Cage dropped out of playing Scarecrow at the last minute to go play Superman.
By introducing a version of Harley Quinn based on Madonna, Batman '89: Echoes has already proven that it will borrow elements from Triumphant in addition to Burton's proposed third film. Before the script for Schumacher's film wound up in development hell, Scarecrow and Harley Quinn were intended to join forces to take on Batman. The Dark Knight of the Batman '89 continuity will have his hands full with those combined threats – while until the release of the first issue, fans can keep busy by thinking about an alternate timeline where instead of fighting dinosaurs in Jurassic Park, or aliens in Independence Day, Jeff Goldblum teamed with Madonna to destroy Gotham City and battle Batman.
Sources: Joe Quinones Twitter
Batman '89: Echoes is set to be released November, 28, 2023.