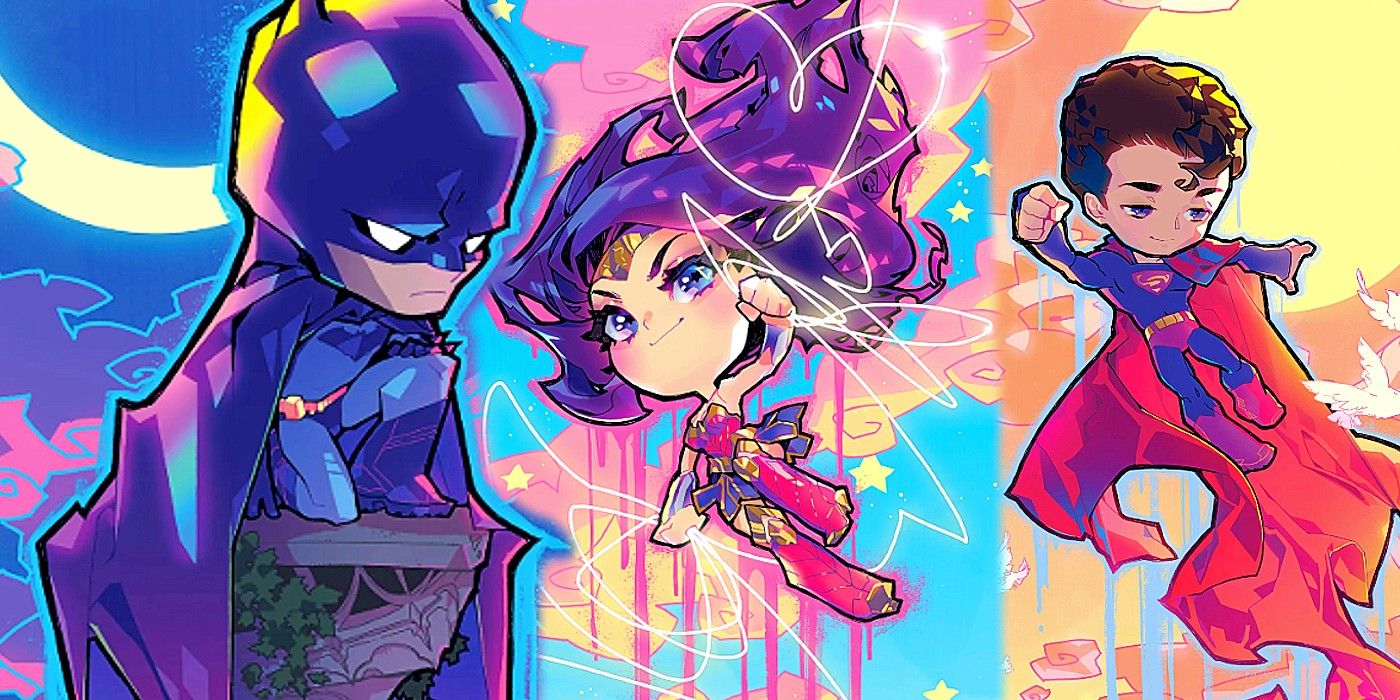 DC Comics is getting a super-cute makeover this fall with a series of new variant covers featuring some major Justice League characters. Batman, Superman, Harley Quinn, and more have never looked more adorable thanks to these chibi-like designs.
A number of iconic DC characters — including five traditional members of the Justice League — are getting the chibi treatment in a series of "Creator Cover" variants by artist Rose Besch. The covers were revealed as part of DC's September solicitations. Eight Besch covers were revealed, though nine have been officially solicited. According to the September solicitation information, the titles receiving a special Creator Cover are Batman, Superman, Wonder Woman, The Flash, Green Lantern, Harley Quinn, Poison Ivy, and even WildC.A.T.S., which features Zealot in an unexpectedly adorable chibi form.
Each cover spotlights a single hero as a miniature (and super-cute) version of themselves — with the classic over-sized chibi head. Though the cover is not yet available, Donna Troy's spotlight issue of Tales of the Titans will also have a Rose Besch variant available to order.
Related: DC Officially Reveals the Future Leader of the Justice League
The Justice League Has Never Looked Cuter
This "Creator Cover" line-wide variant cover program is the latest specialty cover series to be solicited by DC Comics. Though variant covers, as a concept, can be controversial within the comic-book industry and among fans, they're also a tool used to spotlight not only particular characters, but also particular creators and artists. DC's swimsuit variant covers, for example, are a recent tradition (also embraced by Marvel): a cover concept that introduces fun new character designs for icons like Catwoman, Poison Ivy, Nightwing, and more. Variant covers are, for better or worse, and essential part of the industry, but they have always been used to entice readers and uplift particular creators.
Rose Besch is the latest artist to get that kind of line-wide spotlight. Her character designs for these characters — including the unexpected addition of WildC.A.T.S.'s Zealot — are undeniably adorable. This kind of variant program, with a single artist designing covers across a huge number of titles, is a collector's dream, and collector-minded readers will surely want to get their hands on all nine of these Besch covers. Beyond the collector market, though, this style of cover should be attractive to fans of manga and anime — which is no small thing, given the huge sway of manga in all corners of the publishing industry.
Harley Quinn and Poison Ivy Also Get the Chibi Treatment
It's also notable that DC has chosen to spotlight a unique set of characters; the classic Justice League members are no-brainers for the Rose Besch chibi treatment, as is Harley Quinn, whose popularity is undeniable. But it's interesting to see the likes of Poison Ivy, Zealot, and Donna Troy (whose cover has not yet been released) get specialty variant covers along side heavy-hitters like Batman and Superman. These Justice League — and more — variant covers by Rose Besch will be available line-wide throughout September from DC Comics.